The #IDOMARATHON is the brainchild of Kacey Frierson and Chwanda Nixon
In April 2013 me (Kacey) & my wife Chwanda started a same-sex marriage journey to get married in all of the marriage equality states. In 2013 there were only 13 states that allowed same sex marriage. As of April 2015 we completed 14 legal same sex marriages!! On June 26, 2015 marriage equality came to the United States!! But we are not done!! We plan on finishing the remaining 31 states as soon as we can!! And trying to save Georgia for last!!

In 2013, as a lesbian couple, we could not just go to any courthouse to get married, not even our own local courthouse here in Georgia. So we decided to take a cross-county, cross-continent journey of love and commitment to all of the marriage equality states we could legally get married in!
In April 2013 we married in 8 states: New York, Connecticut, New Hampshire, Vermont, Maine, Maryland, Washington DC and Massachusetts.
In April 2014 we married in 3 more states: New Jersey, Iowa, and Illinois.
In April 2015 we added Rhode Island, Virginia and West Virginia.
For our 2013, 2014 and 2015 weddings, all 7 of our children, Edward, Kimoni, Louis, Kimari, Daviyon, Kimron and Katherine, took the cross country trips with us!
In January 2018 we added Nevada, April 2018 Florida and Tennessee in August 2018.

In February 2019 we added South Carolina and Indiana.
There are currently 30 states where marriage equality will END if Obergefell is overturned, unless they repeal their marriage bans. (We've gotten married in 5 of those states).
The inspiration for the #idomarathon is love and commitment and EQUALITY...MARRIAGE EQUALITY!! What a better way to show our love and commitment to each other than to get married, and married and married!! We won't be done until we get married in all 50 states.

Follow our journey:
www.facebook.com/idomarathom
www.instagram.com/idomarathon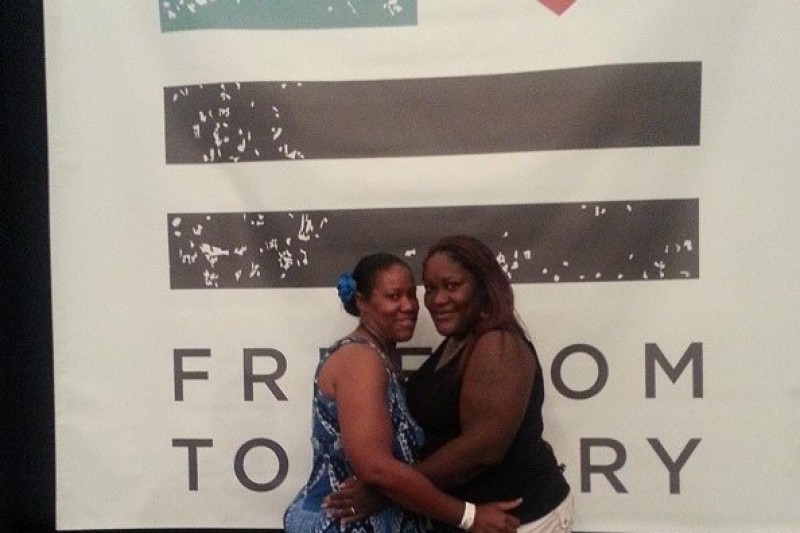 The #idomarathon was named one of the Biggest Same-Sex Weddings of 2013 by Rolling Out Magazine AND one of 21 Amazing Couples That Said "I Do" by Out Magazine AND featured as the cover story for the GA Voice (April 2014)!! #honored